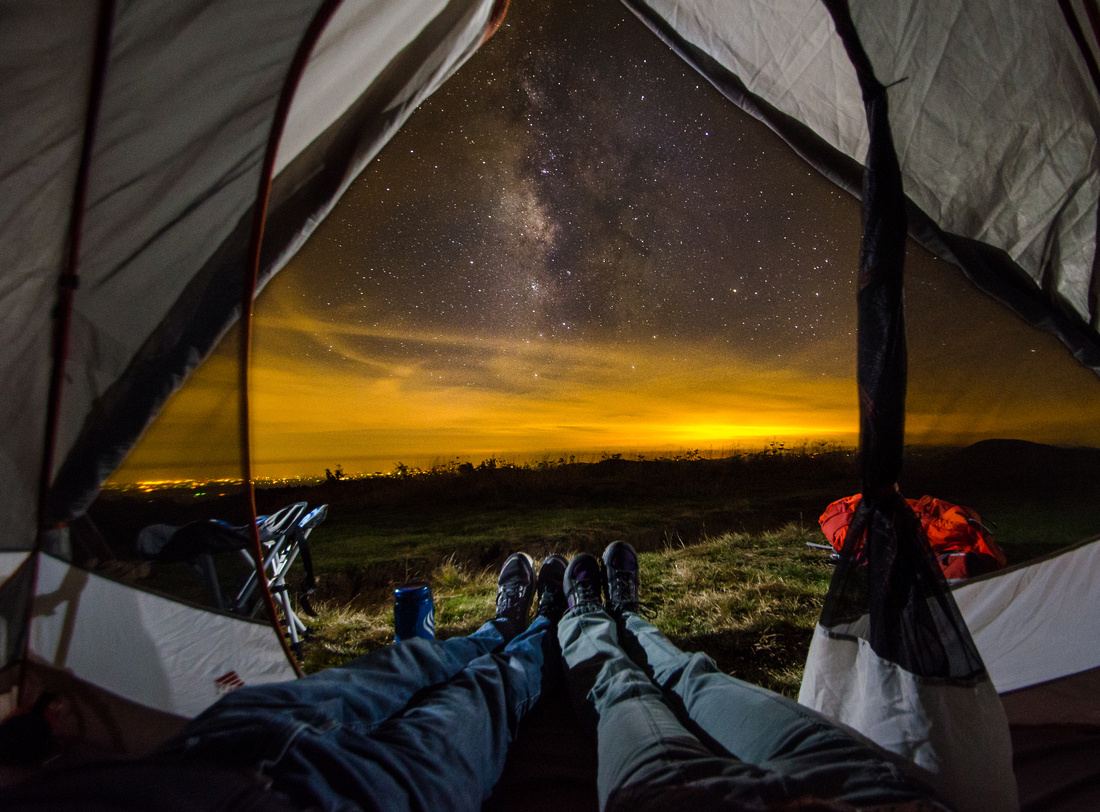 It's been a few weeks since I posted anything, as I have definitely been busy. Several people have asked about my night time shots, set up, and lighting. I am going to cover how I achieved the above photo.
I shot this at Black Balsam Mountain off the Blue Ridge Parkway on Tuesday night around 1030 pm. My vision required me to pack in lots of equipment. It took time and planning to get some shots and others were able to be candid.
The planning started with wanting a night shot that included the milky way. This would require a clear, moonless night. Next was location. Living near big towns and cities requires travel to areas where there is little light pollution. Several different websites offer direction to areas with minimal light pollution. I had already went up on Monday night so I knew I liked the location but you can use (http://darksitefinder.com/map/) to help you decide on a location.
My vision was a couple laying in a tent and staring out into the night sky taking in the beauty that God has given us. The shot would require a couple (guy and girl), tent, backpack, camping items... And of course camera and lighting equipment.
Once everything was packed and loaded in our packs, we were off on the short hike up the mountain. Once there, we set camp as if we were staying for the evening. I oriented the tent to the milky way so it would be in the center of the tent opening. The backpack, chairs and jet boil were staged where I wanted them. The camera was set up in the tent with a wide angle lens set to 10mm. Several test exposures were taken to solidify the composition and exposure.
After a couple adjustments, we were set to ISO 1600, f-3.5 and shutter speed was 20 seconds. At this point, I was ready to add a couple of flashes.
Two flashes on light stands were placed approximately 12 feet away almost even with the front of the tent (one on each side). Imagine a clock face. The camera is at 6:00 position, the left flash was at 9:00 and pointing to 2:00, and the right flash was at 3:00 pointing to 10:00. Settings were 1/128th power and zoomed to 70mm.
After everything was set, we got into place and started shooting. We changed positions of our legs and feet several times and ended up with this photo being as the final product. After multiple other positions and poses we packed up and hiked back out for our drive home.
This shoot was so much fun and I'm happy with the outcome. I know this post was a little long, but I hope it was informative for those who may want to add this style to your portfolio. Thanks for reading and happy shooting!